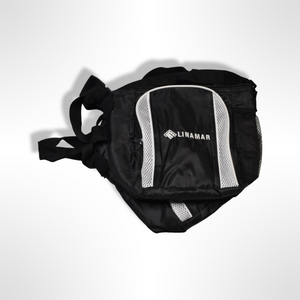 Linamar Shoulder Bag
Looking for a versatile and stylish way to carry your essentials while showing off your love for Linamar? Look no further than this sleek and practical shoulder bag featuring the iconic Linamar logo.
Crafted from high-quality materials, this shoulder bag is designed to be both durable and practical. It features multiple compartments for easy organization, including a front pocket for smaller items, and additional pockets for pens, phones, and other accessories. 
But what really sets this shoulder bag apart is its eye-catching design. With the Linamar logo prominently embroidered on the front, it's the perfect way to show your support for the company while also enjoying a practical and stylish accessory. The bag is finished in sleek black color, making it a perfect fit for any outfit or occasion.
Whether you're heading to class, commuting to work, or traveling for a weekend getaway, this Linamar logo shoulder bag has got you covered.
So why settle for a boring old bag when you can have one that's both functional and fashionable? Add this Linamar logo shoulder bag to your collection today and show off your love for the company in style!